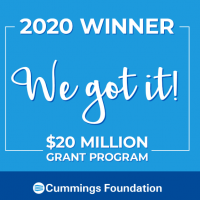 Cummings Grant
July 12, 2020
Somebody Cares New England Awarded Cummings Grant
Haverhill nonprofit receives Cummings Foundation grant
Haverhill, July 10, 2020-Somebody Cares New England is one of 130 local nonprofits to receive grants of $100,000 to $500,000 each through Cumming's Foundation's $20 Million Grant Program. The Haverhill-based organization was chosen from a total of 738 applicants during a competitive review process.
One of the components of Somebody Cares New England is its youth center, whose mission is to train and equip young people to face life's challenges with confidence, competence and dignity. The funds received from the Cummings Foundation will be used to expand the youth center by increasing its days of operation and serving more inner-city youth with programming and personal assistance. This grant will enable the youth center to grow to the next level; impacting individual lives, families and generations to come.
The Cummings $20 Million Grant Program supports Massachusetts nonprofits that are based in and primarily serve Middlesex, Essex and Suffolk counties. Through this place-based initiative, Cummings Foundation aims to give back in the area where it owns commercial buildings, all of which are managed, at no cost to the Foundation, by its affiliate, Cummings Properties. Founded in 1970 by Bill Cummings, the Woburn-based commercial real estate firm leases and manages 10 million square feet of debt-free space, the majority of which exclusively benefits the Foundation.
Cummings Foundation has now awarded more than $280 million to greater Boston nonprofits.
A great deal more information about the Cummings Foundation is detailed in Bill Cummings' self-written business book, "Starting Small and Making It Big: Hands-On Lessons in Entrepreneurship and Philanthropy." Available on Amazon or
www.cummings.com/book
.
About Somebody Cares New England
Haverhill-based Somebody Cares New England was established in 2002 by Marlene J. Yeo to specifically seek solutions to the challenges in the inner cities. In addition to the youth center, SCNE also runs a food pantry to help those in need. SCNE is a licensee of Somebody Cares America/ International.
About Cummings Foundation
Woburn-based Cummings Foundation, Inc. was established in 1986 by Joyce and Bill Cummings. The Foundation directly operates its own charitable subsidiaries, including New Horizons retirement communities in Marlborough and Woburn and Veterinary School at Tufts, LLC in North Grafton. Additional information is available at
www.CummingsFoundation.org
.
Back